Cover image is a lovely selection of Herman Miller chairs.
I have fond memories of the office chair. Not the modern, all singing and dancing ones of nowadays, but the simple, slightly ugly, scratchy fabric covered ones of the 80's. In a burgundy fabric or blue if we were lucky, but mainly black with a basic black plastic frame, padded seat, backrest and the standard base with castors (thank goodness for castors….you'll understand why in a bit!) no gas lift, no lumbar support and certainly nothing special.
My dad whilst trying to build his office furniture empire would have to work Saturdays and some Sundays. This unfortunately would mean that my sister and I would have to go along and amuse ourselves at his office, warehouse and showroom with the promise of heading into the city afterwards to spend our pocket money on more plastic ponies, or Fimo.
I have never in my life been so bored, and the only thing that kept me and little sis sane was those swirly chairs on wheels……..Who can spin around the fastest and make themselves dizzy, who can reach the end of the showroom the quickest on their boredom busting 5 legged friend……Try it in your lunch break on the aptly named Enjoy chair its fun!  https://www.millarwest.co.uk/products/enjoy/ 
So if its possible that you can get enjoyment from a piece of office furniture I know its true as I certainly did with that office chair!  Check out this video, racing on chairs which reminded me of mine and my sisters quest to quash our boredom.  https://www.youtube.com/watch?v=6kHVrgyjjoo 
Stick with this, there is a bit of waffle but interesting waffle I hope and there are pictures too!
THE OFFICE CHAIR…..THEN & NOW
By taking a look below at the different decades and images of the office chairs within those years we can see the subtle changes, styles, fashion preferences, materials used and especially the ergonomic elements coming into play within the design of these over time.
A little bit about Ergonomics…….(trying not to bore you here so will keep it short!)
Simply put….
"Ergonomics

 is the science of designing the workstation to fit within the capabilities and limitations of the worker. The goal of office ergonomics is to design your office workstation so that it fits you and allows for a comfortable working environment for maximum productivity and efficiency."  
After the second world war Ergonomic design was becoming more popular due to an increase in the number of factories and businesses. This office revolution and the boom in office based jobs saw more workers complaining of aches and pains like arthritis, back ache, neck pain etc. Designers had to be more body conscious when creating seating that would fit and support the body and make sitting at desks for long periods of time more comfortable, and therefore creating a much more productive workforce. Basically chair design became more scientific so office workers did more work instead of complaining about their dodgy backs and piles!
So sit comfortably (hopefully) and take a look through a brief history of the office chair……
1900 BC
Although not exactly an "office chair" sculptures and pictures of these forward tilting stools dating back to the 12th Dynasty were discovered in Egypt, and as you can see the slight tilted angle must have been consciously created to help craftspeople perform their work and aid the body more efficiently than a basic stool. This would seem to be one of the last workers chairs with body movement in mind when being designed for a few thousand years!

65 BC (or thereabouts)
Over 2000 years ago Julius Caesar would sit on his curule chair to conduct his business (seen above) and would take it everywhere he went. So it must have be particularly comfortable although it definitely doesn't look it!
1800's
1840's: Charles Darwin and the evolution……of the office chair!
The 19th century naturalist Charles Darwin pimped his William IV-style armchair to become what historians believe was the first example of an office chair on wheels! He decided to alter it by hacking off the existing legs and replacing them with metal bed legs with castors on the bottom to make it easier for him to roll around his lab with greater ease…Not just the father of evolution in the natural world but also evolution of the office chair!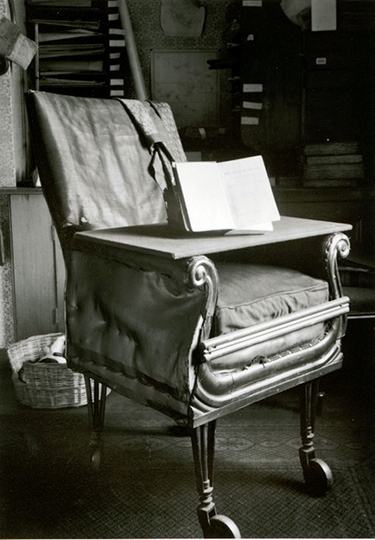 The Office chair…..Computer, conference, drafting, executive, ergonomic, kneel, task etc etc….The list goes on. There are so many different types of chair in this present day and age a vast array of styles and options that can all be classed as an "office chair" its hard to believe and envisage a world way back in 1849 America where the only choice you had was a cast iron and red velvet number seen here below in all its intricate aesthetically pleasing glory.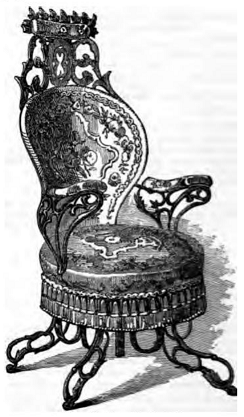 This was the first ever known chair to be crafted with the office worker in mind and was designed for the American Chair Company in Troy New York by designer Thomas E Warren. A result of the boom in office and managerial jobs within the railway business, the Centripetal Spring Armchair was created with many of the characteristics that we expect to see today on our office chairs, for instance it had suspension built in to absorb some of the movement from the trains, padded seat, armrests, headrest, swivelling seat that could swivel and tilt in any direction and castors too. So basically all the kit, apart from adjustable lumbar support and looked sophisticated too. Almost throne like and so comfortable it was deemed immoral!
Both the pictures above are from the late 1800's and depict an office environment at that time.
By the late 19th century and due to the upsurge of office based jobs, engineers and doctors who studied bodily movement created chairs that made tasks like sewing, barbering and dentistry easier. In turn the development of chairs with adjustable backs, adjustable seat heights, seat tilt tension and other features for clerical and managerial purposes started…Office chairs were created due to demand and these features would be seen in ergonomic chairs more than a century later.
This caught the attention of Otto von Bismark who is credited with popularizing the office chair by distributing it through German parliament during his time in office.
1900's
This Executive office chair, from the Larkin Company Administration Building, Buffalo, New York (1904-1906), designed by Frank Lloyd Wright, now resides in the Metropolitan Museum of Art. Considered one of the greatest office chairs of all time, it had a swivel mechanism for height adjustment but unlike most of the curvy furniture from this era this "modern" (ahead of its time almost) chair looks like a contraption for interrogation all boxy and uninviting.
Wright also designed other chairs including a three-legged office chair for typists, but when the typist leaned forward the chair tilted with her and with complaints emerging about its frightening instability it was to become known as "the suicide chair"! This designer clearly did not have his heart set on body conscious design instead favouring to match the chair to its surrounding decor…..Enough to make any hardcore ergonomist shudder!
1910
All of the Edwardian chairs seen above have been crafted out of solid wood with swivelling padded seats and substantial curved wooden legs. Most have curved backs and look strong, sturdy and beautifully crafted so were meant for managerial positions or for people with important roles.
1920's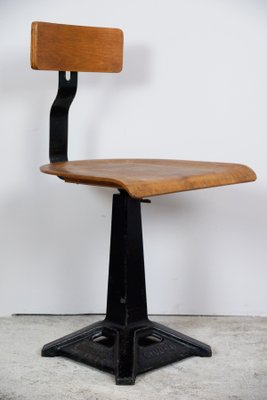 In the 1920's, the belief was widespread that sitting comfortably in your work chair made for laziness, and so it was not uncommon to see workers working in factories on backless benches. The first chair is a workshop chair, designed in-house for Singer Company USA during the 1920's, adjustable in height and has a sprung, adjustable backrest. The other chairs are also height adjustable and have the added bonus of padding on the seats. The last red chair is a swivel chair from Sweden 1920s in oak and cast iron.
1930's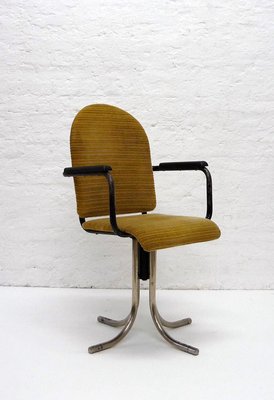 Around the 30's William Ferris created the "DoMore Chair" to help prevent hemorrhoids, kidney trouble, constipation, and a whole host of other lovely problems caused by slouching in other chair designs. This progressed to Ferris later designing chairs that promised to tone executives abs! Here on the right we can see a classic 30's DoMore chair….with its Art Deco style arms helping staff due to its comfort to basically spend more time in their chairs and at their desk doing more work! You can also see the curved Art Deco style coming through in the second office chair from the Dutch company Gispen. The turquoise (nice to see a bit of colour being used now!) being a rotating one by Werner West from Finland. The modern red office chair is by Ahrend de Cirkel.

Above a diagram of a tilting chair from 1875.
1940's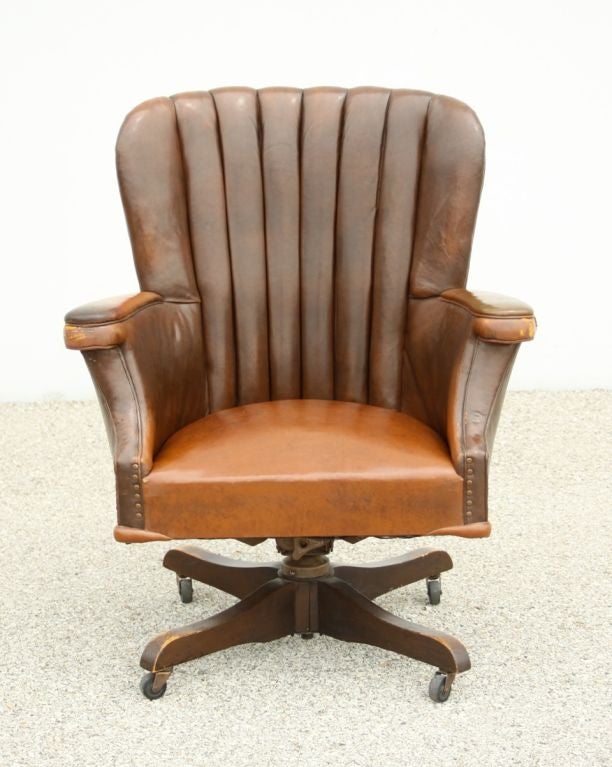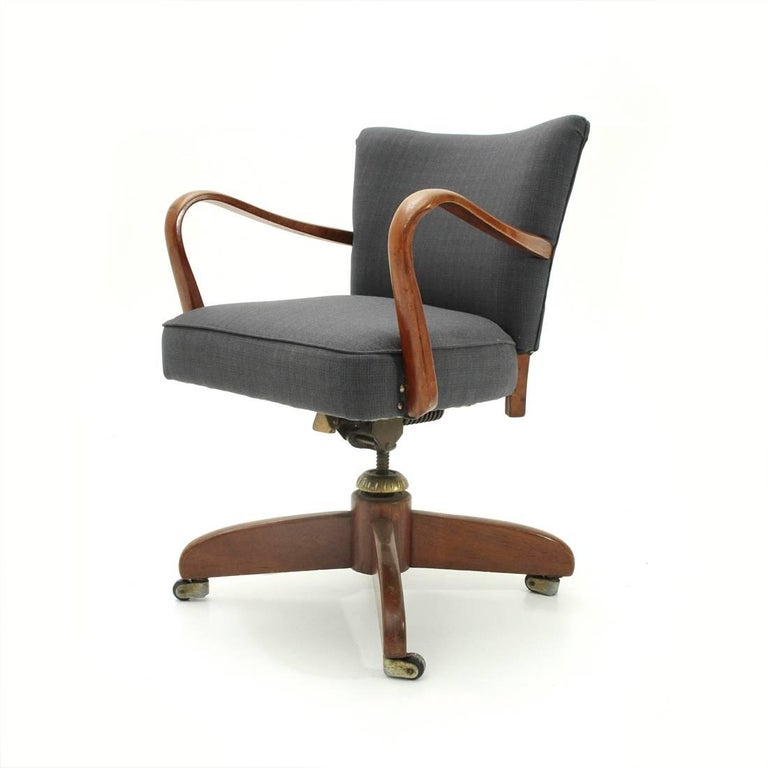 The 40's were very similar to the 30's in terms of design, as you can see above not much has changed.  A large comfy American desk chair can be seen above (Americans had a penchant for super sizing everything) a lovely example of Art Deco still being present in the arms of the second comfy "DoMore" chair and a pair of Steelcase desk office chairs with metal frames.
1950's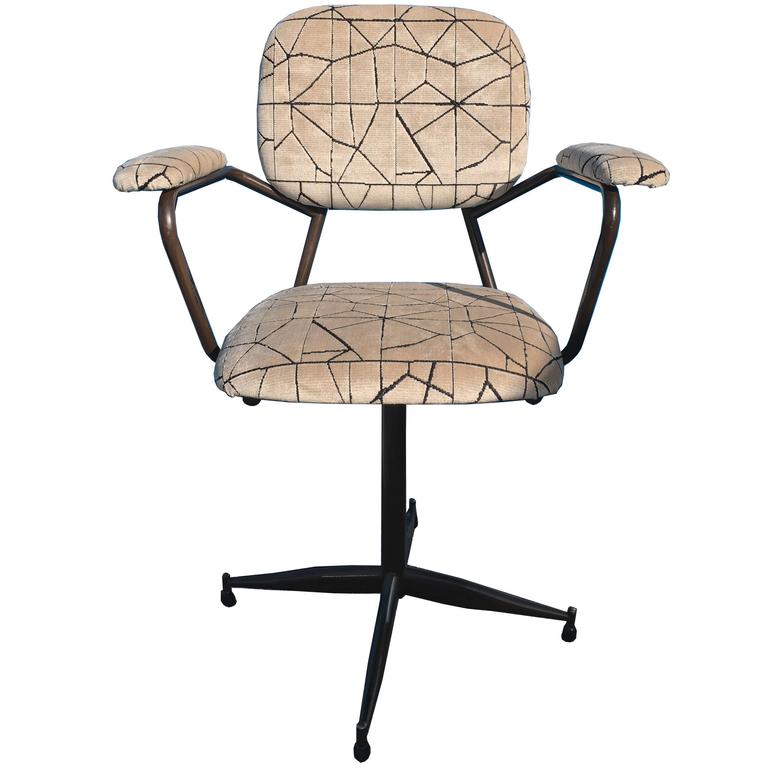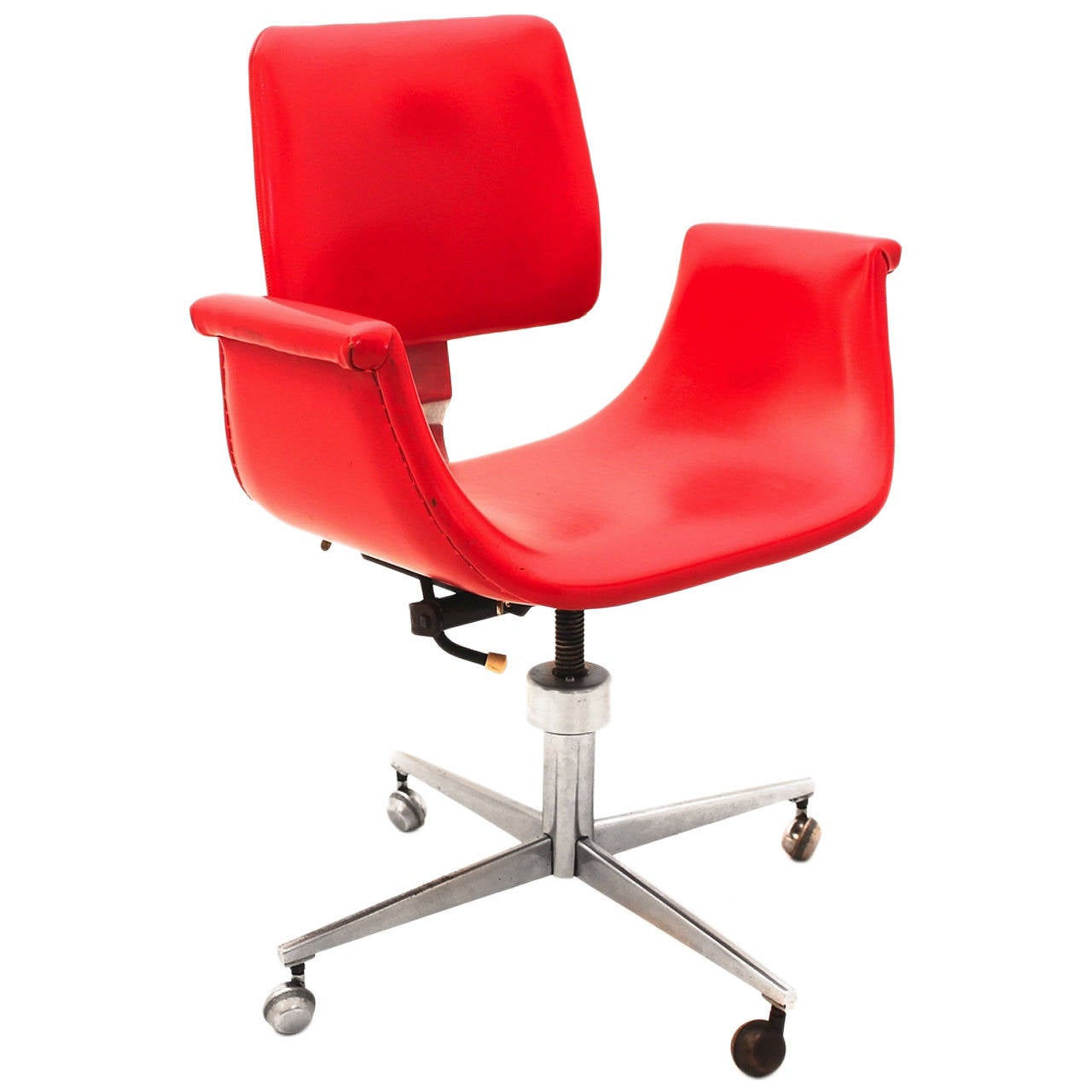 The first chair is a perfect example of a mid century pattern.The red Gastone Rinaldi style one is from Italy and looks really contemporary, and the vintage yellow one is a McDowell Craig office tanker desk chair. Note by now all have a metal frame.
1960's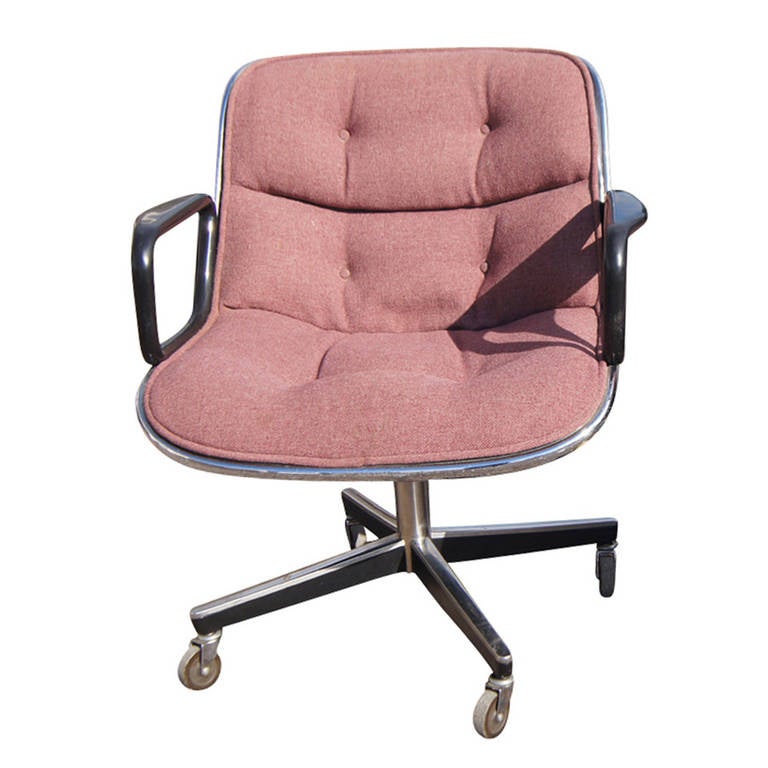 Heavy squishy padding can be seen here in the swinging 60's! making these chairs look really comfy and slightly moulded, but maybe not yet supporting the most important parts of the body correctly. The simple black operators chair doesn't seem to have changed much at all since the one seen above in the 1920's. The third chair is a Charles Pollock for Knoll. Last one is a Gastone Rinaldi Office Chair for RIMA.
1970's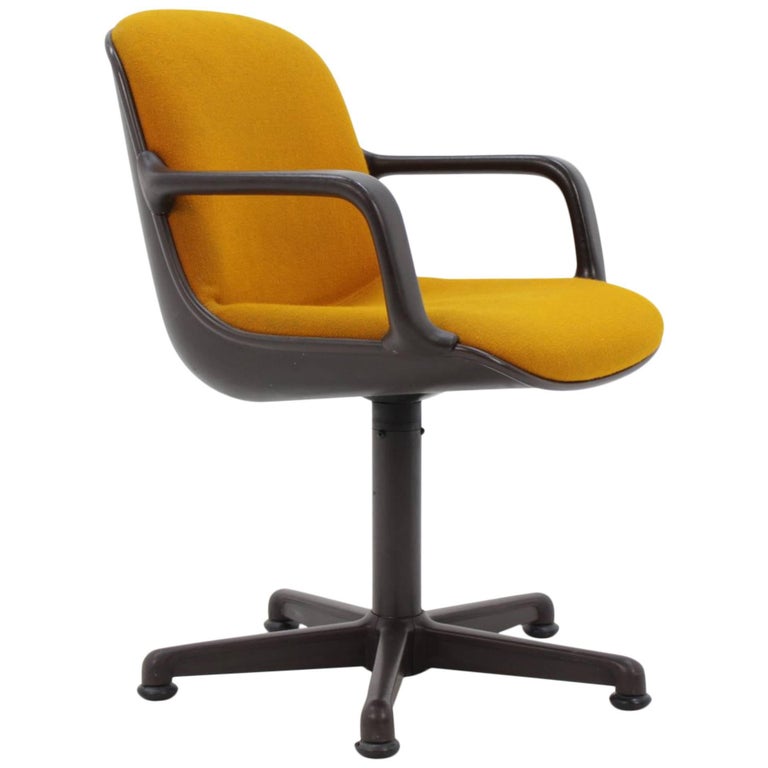 By the 1970's the office chair was beginning to get a cool and funky makeover all mustards and warm colours as well as ergonomics becoming more popular as people realised that sitting in an office all day was not healthy for them……chair design became more of a science. The first chair is the very sought after Eames shell chair on wheels. The second is a mid century office desk chair designed probably by Charles Pollock in 1978 for Comforto, and the red rollback chair by Herman miller in 1977 may look futuristic but was not that comfortable. The yellow lacquered plastic typists chair is part of the Olivetti Synthesis 45 range by Ettore Sottsass.
1980's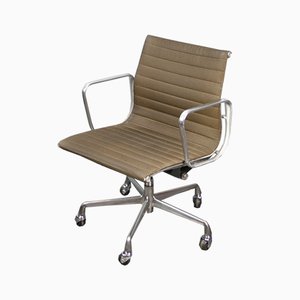 Ergonomics was becoming a real buzz word within the office environment by the 80's which can be seen here especially in the last two chairs. The first chair seen here (looking very similar to my twizzle chair!) is a post modern contemporary 1980's Herman Miller Ergon Office Task Chair designed by Bill Stumpf who devised ways to support the contours of the body with moulded polyurethane foam. Next we have a Charles Eames (a very popular chair guy by the way) aluminium group chair. Dr. Congleton's original Neutral Posture Zero Gravity chair (designed using research from NASA) from 1985 is next which has a very strange looking clam shell shape to support the upper thighs, looks super comfy though! Lastly a Thatsit Balans (balance) office chair by Peter Opsvik for Stokke, these became very popular in the 80's and these kneeling chairs were meant to reduce lower back strain by dividing the burden of your weight between your knees and your bum.. click here to see how it can be beneficial.  https://youtu.be/tB1sHapk7Dg
For me the most visually pleasing design to come out of the 80's was the ergonomic powerhouse that is the Hag Capisco designed in 1984 again by Peter Opsvik and sold in over 67 countries (including here at Millar West)  https://www.millarwest.co.uk/products/hag-capisco/  Its super comfy as well as looking oh so good.
"The very first thing that strikes you when you look at a HÅG Capisco® is its wonderfully unique shape.
It stands out from all other chairs in the world, with its arms stretched out, as if welcoming you to sit down.
And then you see the Saddle Seat™. A seat shaped to inspire you to sit like the active horseman in his
saddle, providing perfect freedom to move into new comfortable sitting positions. There is an undeniable
feel of effortless comfort sitting in this chair. You truly feel the essence of the HÅG Capisco® philosophy"
1990's
By the 90's things had started to get a bit more technical, lots of levers for different functions, ergonomics had got slick…..and practical with lots more choice of material colours and features. The Herman Miller Aeron chair seen here above (first on left) was designed by Williams Stumpf and Donald Chadwick in 1994 and is probably the most well known ergonomic chair in the world, made with a new fabric called Pellicle mesh this revolutionary fabric allowed the air to circulate around the worker keeping them cool and their skin able to breathe. High end chairs like this were able to supply comfort to the office worker for much longer periods of time……. no excuses for excessive breaks to stretch those legs! Third along is a Charles & Ray Eames aluminium and mesh office chair.
2000 – present day
With chairs today being designed to a really high specification many of these and especially the executive ones are designed to be sat in for eight or more hours at a time. Maybe for some of the workaholics around us even slept in! The Herman Miller Embody chair (above second left) was sold as a "health positive" and actually has positive health benefits….fab.
and these ergonomic lovelies……
So what are the benefits of these?…… "The idea of sitting on the ball versus a traditional chair is that this change can increase core strength, since the abdominal muscles must be constantly engaged to avoid falling off. Improving core strength means improving posture, balance, and stability. "  
Future?……..
  
The future of the office chair is unclear, and with the trend for sit/stand workstations and even treadmill office desks, sitting at your desk seems much less appealing and necessary.  https://www.millarwest.co.uk/products/category/office-desks/sitstand-desking/  But its highly unlikely that we will all be working in an office full of sit/stand or treadmill desks anytime soon, they are still seen by many as a luxury item due to their cost, so I feel the trusty old office chair is safe for now. On the market today it would be hard to find one chair that fits all so realistically there may never be the perfect chair, but with so much choice you can find "the one" for you……and maybe that "one" could just be from us!  https://www.millarwest.co.uk/
Or maybe If you fancy buying a pre loved boredom busting spinning chair like the ones that I mentioned from my childhood (many light years ago) then look at our second hand selection here  https://www.millarwest2nduser.co.uk/ and you never know that old burgundy one could still be there…..Happy twizzling!