Image – The Conran Shop
I absolutely love interior design, and flicking through the latest ELLE Decoration is high on my list of "what to do when not at work" second only to "overdosing on Netflix or Grey's Anatomy" And over the last decade or so I have loved nearly as much looking through office interior catalogues….sad right? Wrong…..as there really are huge similarities in both home and office interiors nowadays providing me with excitement in equal measures.
The line between the two worlds has become increasingly blurred giving us more option and in some cases cheaper options too. Most home owners would NEVER look to an office furniture company with the intention of kitting out their abodes with sofas, chairs, tables and storage, even beds! But in some cases this is where the more edgier designs are sourced.
You only have to flick through any recent homewares catalogue to see that style filtering through and even the most "country cottage/shabby chic" esq companies following suit and going all metal, copper and concrete on us. My 89 year old grandmother has even got her own scandi chic/co-op floral theme combo going on…its filtering deep!
THE BIG HOME/OFFICE FURNITURE CROSS OVER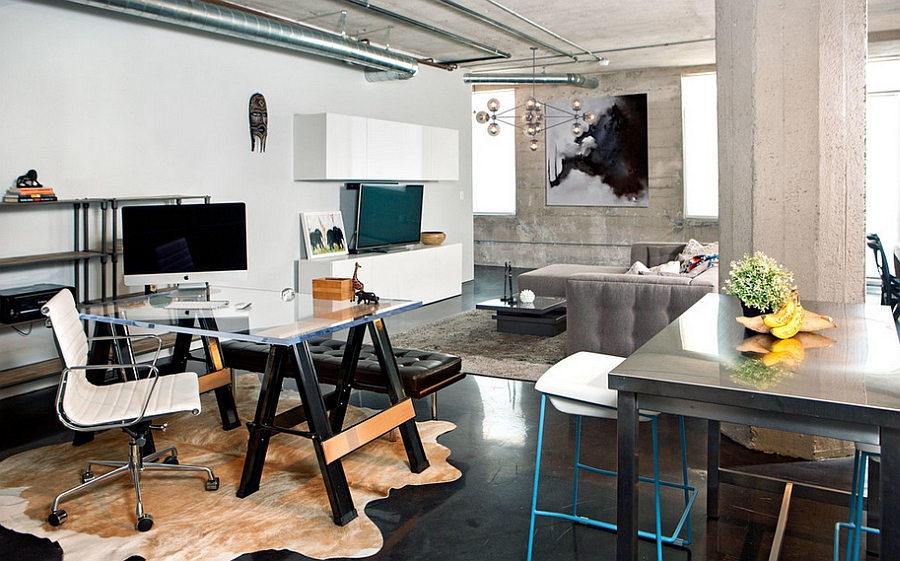 In the above home offices, the two areas blend seamlessly into one another proving that office interiors can now look chic and contemporary by using materials good enough for your precious home.
Below is proof that the two worlds definitely did not blend effortlessly into one another 20ish years ago.
  +   = A NOT VERY PLEASING SIGHT 
 INDUSTRIAL STYLE = THE REASON THIS BLOG EVEN EXISTS
If we go back a decade or more we can see that with the popularity for Industrial style, Industrial luxe interiors, industrial chic, basically industrial themed furniture for the home, the similarities between home furnishings and furnishings for the workplace (even a factory!) were becoming evident. Here we explore the different office furniture types and how they are fitting in with our modern living.
METAL STORAGE
These lockers look fantastic, and are a really brilliant way to store clothing, shoes, junk etc. I especially love the end one in all its 1980s grey metal office storage glory.
Forget shoes, make-up, clothes, chocolate (actually maybe not chocolate!) The thing that puts a smile on my face and a flutter in my belly is……hard wearing, stand the test of time storage. I have 4 boys….enough said. The perfect hard wearing storage option?……Metal filing cabinets and lockers of course!! They actually look better the more bashed they get so its a win win in our house, plus the nightmare puppy cannot chew metal with the same gusto as it does our Oak table, door frames basically mostly all internal decorative surfaces. Take a look at the (heavenly) images below, none of these would look out of place in your 21st century home or office.
    
  
Where before a metal filing cabinet would have looked totally ridiculous and ugly in your kitchen or even living room…..god forbid!! It now looks edgy, contemporary, even beautiful!
For example, many years ago, knee deep in kids, with a weekly budget to adhere to, a passion for home interiors and for my house to not look like something from a BHS catalogue (btw..their lighting dept was always on form) I started to become interested in what my dad had tucked upstairs in his second hand labyrinth of "stuff" "junk" or….even…"TREASURE!" maybe he could do me bargain. There I found a lonesome dinky little 3 drawer filing cabinet begging me to take it home. I did take the little cabinet home, lovingly spray painted it bright red, popped a protective layer on top and the beaut now lives in my bathroom (seen below) storing lotions, potions, cotton wool etc etc you get the picture…..and I absolutely love it!
Click here to look at our selection of storage cabinets and cupboards that are too good to spray paint but can look equally chic and edgy in a contemporary home or work environment. https://www.millarwest.co.uk/products/category/storage/ alternatively pop in and take a look upstairs at our
junk 

treasure and see what little gem is waiting for you there.
DESKING (that looks like a TABLE) 
Curved desks seem to be taking a back seat when it comes to designing a chic and sleek home or work environment. Although still widely used in your standard office, the trend for angular industrial desking that looks more like a table seems to work much better when trying to create a home office environment or maybe the ultimate design crossover…..using an office desk as a dining table or display table etc, let your imagination run wild! The best type of table developed for an office but equally suited to a kitchen or dining room would be a meeting or conference table, usually with an A frame or metal legs to ramp up the industrial style. Take a look at the fab Meeting tables/desks below, most that we at Millar West can supply.
     
   
PARTITA TABLE by KOLEKSIYON FURNITURE  https://www.millarwest.co.uk/products/partita-tables/
AGENT TABLE by BOSS DESIGN  https://www.millarwest.co.uk/products/agent-table/
JIG TABLE by FROVI  https://www.millarwest.co.uk/products/frovi-jig/
LUX TABLE by ELITE  https://www.millarwest.co.uk/products/elite-lux-table/   This is actually a boardroom table, but would look stunning in a kitchen (minus cable ports!)
CAMPUS TABLE by VERCO  https://www.millarwest.co.uk/products/campus/ 
    
 CHAIRS
A few years ago, in need of some chairs for the kitchen, and wanting something different to what everyone else had (think cottage chairs….pine warehouse to the max) and once again not wanting to spend too much (dad to the rescue again) I decided to invest in some office chairs, how cool…in reality the end result was a total mis match of seating, plastic, wood, metal, one high, one short, one square, one rounded, and all sat around like a table full of misfits. It still actually works to this day in its own strange way, or at least until I can decide on half a dozen oldies for Christmas dinner (and I'm not referring to my mother and father in law here, I going to raid the second hand again!)
So these days I can often be found in our showroom looking at all the lovely chairs we have on our display rack and wondering which ones I could lovingly plonk around my dining table at home, or again rooting through the labyrinth of second hand items upstairs. https://www.millarwest2nduser.co.uk/ 
Chair design is something that has been taken seriously since the turn of the last century and a chair designed in the 1950's could easily pass for something designed today. We can access a wide range of contemporary seating for both the working environment (usually side chairs or for breakout areas within a workplace) and the home, that are marketed differently but look exactly the same.
As an office interiors specialist we can supply seating that is perfect for your home, whether its in the kitchen, living room or anywhere really! (BTW we are not talking about those swirly whirly ones that you can spin on whilst bored sitting at your desk….that's another blog altogether Millar West history of the office chair blog). Take a look at the fabulous chairs below, some which are perfect for a dining table, or lounge chairs perfect to curl up into for a Sunday afternoon snooze, and all can be purchased from us.
RUNNA CHAIR by PLEDGE  https://www.millarwest.co.uk/products/runna/
SLING CHAIR by TRACTOR https://www.millarwest.co.uk/brands/tractor-london/
BETHAN CHAIR by VERCO  https://www.millarwest.co.uk/products/bethan/
TRANSIT CHAIR by BESTUHL  https://www.millarwest.co.uk/products/transit-chair/
ALEXANDER CHAIR by SIXTEEN3  https://www.millarwest.co.uk/products/alexander/
DISHY CHAIR by OCEE DESIGN  https://www.millarwest.co.uk/products/dishy/
AGENT CHAIR (top) https://www.millarwest.co.uk/products/agent-chair/ & MARNIE CHAIR
https://www.millarwest.co.uk/products/marnie/  both by BOSS DESIGN 
AVI CHAIR by ORANGEBOX  https://www.millarwest.co.uk/products/avi-chair/
NORDEN CHAIR by ELITE  https://www.millarwest.co.uk/products/elite-norden/
STOOLS
These are very similar to the ones I have in my kitchen….mine were from ebay, fresh from a science classroom complete with chewing gum and rude grafitti! (although that could have been the youngest son when I wasn't looking)
TRANSIT HIGH STOOL by BESTUHL  https://www.millarwest.co.uk/products/transit-high-stool/
SOFAS
I will be honest here, usually ALL soft seating options for office interior purposes are usually rather firm and not soft and squidgy like the sofas we choose for our homes (unless you are a more mature person who needs that support then all would suit) as they aren't intended for long term usage, but here are a few that would give you that cosy feeling.
KINGSLAND SOFA by UNITED STRANGERS  https://www.millarwest.co.uk/products/4303-2/
ABBEY SOFA by VERCO  https://www.millarwest.co.uk/products/abbey/
HAMPTON LOUNGE by MORGAN  https://www.millarwest.co.uk/products/hampton-lounge/
ACCESSORIES ETC
A decade or so ago you would never have seen a highly decorative china lamp base complete with pink frilly lampshade absolutely anywhere near your office, only in your floral and pine bedroom palace. Today an anglepoise lamp or metal filing tray looks acceptable in each domain.
SURI POUFF by KOLEKSIYON  https://www.millarwest.co.uk/products/suri-pouf/
OTIS COFFEE TABLE by DAMS  https://www.millarwest.co.uk/products/otis-coffee-table/
ELEMENT LIGHT by HUMANSCALE  https://www.millarwest.co.uk/products/element-vision/
CUBERT LIGHT by CBS  https://www.millarwest.co.uk/products/cubert-personal-light-and-power/
And some more items that look good in both worlds….
PINBOARDS
Once only hankered after by people in suits…… yes I know people have been using pinboards at home as a style statement for years but they are still associated with work environments, and a kitchen is a work environment for some busy mums & dads, it sure is for me…every night of every year for the unforeseeable future…I have a family of boys remember!
MESH STUFF
Good old mesh, hard wearing, light, and it can create storage that doesn't feel like a solid wall if using it to divide up areas, enabling you to let in light. The downside of course would be that everybody could see exactly what is hidden….so you couldn't stash your spare pants in there. Just about anything that is made from wire mesh can work….just go mesh crazy!
And lastly……
If like me by 7pm you are in need of an adult sized den to retreat to away from the kids, husband, dog and nightmare puppy then consider this little piece of heaven……
JENSEN HUT by VERCO  https://www.millarwest.co.uk/products/jensen-hut/
SO NEXT TIME YOU ARE THINKING OF GIVING AN AREA OF YOUR HOME A BIT OF A MAKEOVER…..REMEMBER, OFFICE FURNITURE DOESN'T NEED TO SEEM A WEIRD CHOICE, IT CAN TOTALLY WORK! 
At the time of publish I have to confess that I'm now edging slightly away from hard industrial and towards a softer and slightly dare I say floral interior again (a good old mix of styles is a visual winner for me) …..Off to peruse some flouncy florals with my grandmother then!