I start this blog (my first ever) feeling slightly ashamed to say the least, that yes I confess I am a total wannabe Eco Warrior but haven't actually managed to jump ship and go plastic free…..in the workplace that is.
At home all is good and rosy on the recycling front. I feel proud of myself and loving towards the environment every time I empty an extremely large, overflowing basket of plastic, paper and sometimes an embarrassing amount of glass (bottles in wine form) into my green bin. But as soon I'm at work that all gets put to the back of my mind and I transform into a lazy, ignorant, non recycling human.
That was until I started working at Millar West. Almost straight away in my new working environment I noticed two things. Firstly my lovely co workers (mostly male) have neat little re-usable boxes sat temptingly next to them on their desk, full of homemade delights made by themselves…yes themselves! And secondly when my old habit of scrunching up a unwanted piece of paper, card, packaging etc and chucking into the bin was halted by one of said lovely co workers, I was nicely told that there was a custom made neat little letter box built into a storage unit (perks of being an office furniture specialist) to post these items through, which then gets transferred to a skip outside, and then on to be mass recycled….fab.
So this catapulted my train of thought on the subject of plastic in the workplace into high speed. How far can we go with a non plastic working environment, and I'm not just talking a few Tupperware pots, I'm talking about the plastic in furniture, chairs, computers, the big stuff. Is it doable? Totally unrealistic? Or can we start to see recycled, recyclable, or even compostable (maybe a bit ahead of the game with that one!) filter into the workplace. For the time, energy and money to make these items, would it really be worth it?
Check out Chairigami. Who make fabulous cardboard furniture for the urban nomad!
Also take a look at these pop-up office cubicles made from Ultra Board a material that's recyclable and fully sustainable, not to mention it looks the part too, as well as being a temporary space divider for meetings and personal work spaces.   https://www.springwise.com/pop-up-office-cubicles-created-recycled-cardboard/#
It's absolutely great that the likes of Richard, Gary and Jay to name a few have adopted positive Eco habits at work and are using reusables for their lunch, and that proper 'mugs' in the work kitchen and canteen are making a comeback, every little helps, but its the larger plastic items that have got me interested in eventually being replaced in time, maybe whole offices kitted out like Eco hobbit holes!
When it comes to office furniture I understand that you will be wanting to hold onto that desk, chair, tambour unit etc etc for many years to come and not for just for the time it takes to scoff a pre-packaged sarnie, so whats the actual point of considering this new approach to the furnishing of your Eco office? Its not going to make a difference like reducing single use plastics and certainly will not end up in the North Atlantic Garbage Patch any time soon is it!?
Well if we aren't able to get a hold on the sheer scale of plastic misuse it certainly could be in 10-20 years time as the vast majority of plastic ever made has gone to landfill or escaped into our environment whether its a plastic duck or an office chair.
Shockingly in 2015 globally we produced over 320 million tonnes of plastic..what!! That's more than the combined weight of every human alive on earth today, and based on our current usage, global plastic production is set to double over the next 20 years, that is unless we take drastic measure to undo this.
Surely the global working environment contributes a lot to this? And given the devastation being caused in the oceans by our excessive plastic use, we urgently need more businesses to step up to this challenge.
But that's impossible I hear you say! Yes we must be realistic and not get too overwhelmed by the level of your businesses current plastic usage whether single use or reusable and some things are unavoidable unfortunately and downright impossible to source. Where would you go to buy a recycled chair, recyclable monitor and cardboard desk anyway? and how practical is that after all, especially when you spill your flat white ( from your reusable cup ) all over it!
Well some companies are all over it, and can offer various pieces  of furniture made out of high volumes of recycled materials….well done to the guys at nomique who have created this fantastic chair. http://nomique.com/about/environmental-sustainability/
Here at Millar West we also sell another beautiful chair, Moka, again by nomique that has a felt shell made from recycled PET bottles.  https://www.millarwest.co.uk/products/moka-felt/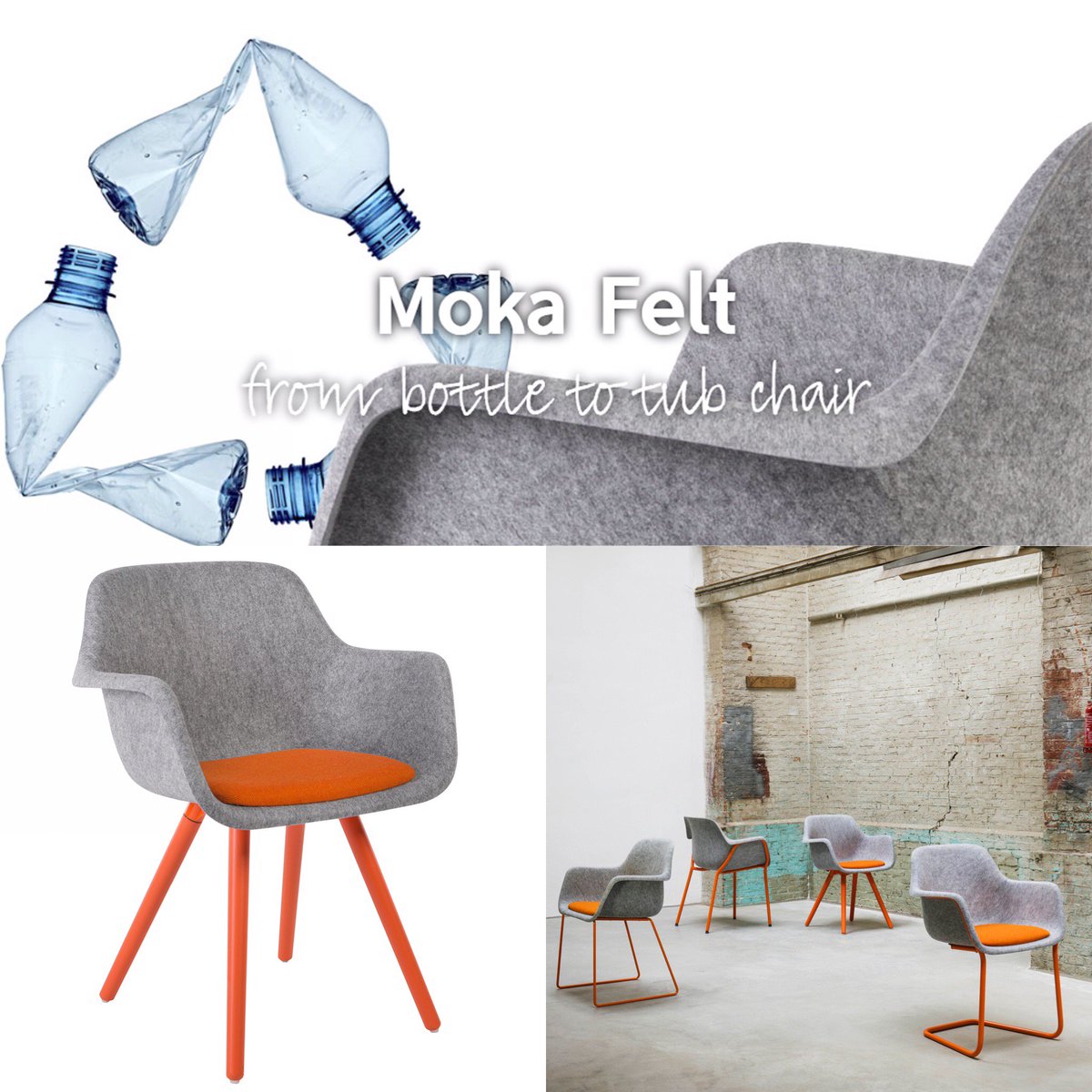 Lesco another company helping to preserve the planet and enhance quality of life can offer a range of 100% recycled office products, including desktop accessories and the Green chair by Javier Mariscal which is made from recycled polypropylene.   http://www.lesco.uk.com/departments/100-recycled/3806.htm

But for me the most encouraging and exciting story of sustainable design regarding office furniture comes from the Netherlands. There Eco warriors and designers are tackling plastic pollution by making corporate furnishing  made from birch, oak and plastic fished from the canals in Amsterdam.
The end result is a stunning high end collection inspired by the whale ( the table seen here looks like a whale surfacing from the ocean, blowhole visible ) and consisting of boardroom tables, chairs, lamps and acoustic wall panels…..incredible!    https://inhabitat.com/plastic-fishing-group-in-amsterdam-turns-trash-into-contemporary-furniture/
So looking into the future and to sum it up, businesses whether small or large are well placed to make a significant difference when it comes to ridding our planet of this plastic crisis. Continue bringing in your reusable cups and lunch boxes, buy your first piece of recycled office furniture, or alternatively pop in to see us at Millar West and view our extensive range of second hand furniture…..upcycled office chair anyone?   https://www.millarwest2nduser.co.uk/
Finally beautiful sustainable spaces are well on the radar and actually have been for a while, for in 2009 dutch designers made this office made entirely from cardboard, no nails and no glue!! And costs next to nothing.  https://www.homedsgn.com/2012/02/10/nothing-cardboard-office-interior-by-alrik-koudenburg-and-joost-van-bleiswijk/ Could there now be a use for all that amazon packaging?
REMEMBER YOU CAN MAKE A BIG DIFFERENCE TO THE PLASTIC CRISIS BY USING LESS PLASTIC IN THE WORKPLACE!