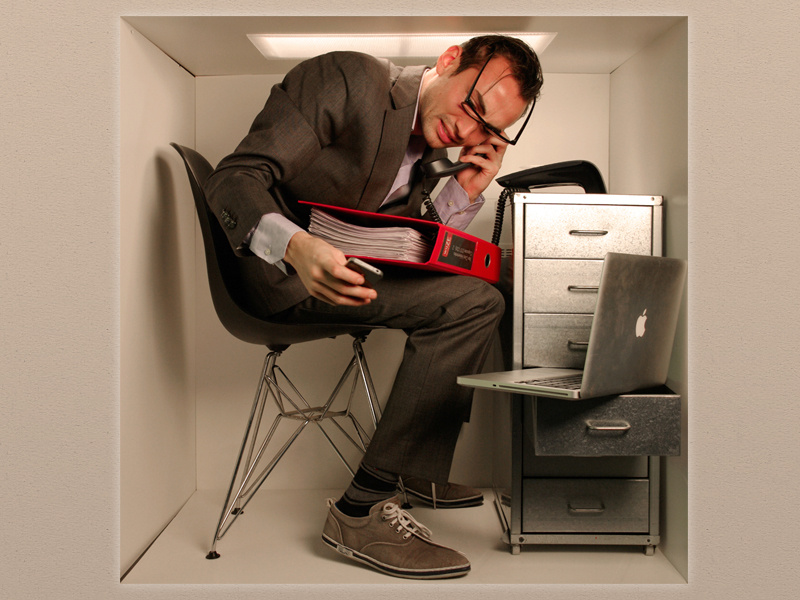 Are you lucky enough to have a lovely spacious working area? Is there copious leg room, room to recline and snooze if you fancy it, room to house a ridiculous amount of clutter, room for your plastic novelty tat from that holiday to Tenerife, photos, lunch box, token piece of fruit, (trying to kid yourself that you are healthy are you?) that random pile of paper that nobody knows where it belongs?……. I'm looking around our office for just some of this inspiration, but of course my lovely nook is super tidy!………OR have you been unsuccessful in gaining space in your working environment and have ended up with a space that resembles poor Harry Potter's cupboard under the stairs?? Maybe even complete with your very own Mr or Mrs Dursley as a boss……no that's far too much bad luck!
Well if you are unlucky enough to be agreeing to that last sentence and work in an extremely small office then read on as we look at the various desking options that could be the solution to your much needed quest for space in the world of work.
Some examples of small, meagre, tiny, teeny or whatever you may want to call them, work spaces,
Home office

Student digs

Garden Office

you're a hobbit…….or

you drew the short straw and its at your actual workplace.
HOME
GARDEN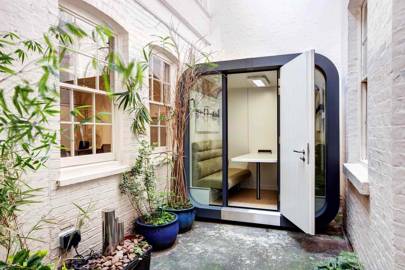 OFFICE
DESKING  – Space saving super tips.
The backbone of any office, without our trusty desks we would find it near on impossible to get any work done at all and with them being the one item that takes up the most floor space we should start there. Its very important that when we are short on space that we are super clever and use that precious space very wisely, with a dash of creativity and thoughtful planning any space can work.
Fliptop, folding, sliding, there are quite a few different types of space saving desks and they aren't all suitable for every small work space. One important factor to bear in mind is that most of these desks would be perfectly placed in a home office, teenage bedroom or student abode as you are more likely to be using a laptop and not a PC. When a computer complete with a spaghetti load of wires and tower is an integral part of your office life then the lovely "folding up into a cupboard" type desk would probably prove too impracticable to pack away at the end of a stressful day…..those wires! Where would they and your computer go? on the floor? what a pain! you may as well just get a fixed desk. Try it out but only realistically use these folding options with laptops and to use as a temporary surface to work from.
If you work in an office at a computer you would need a desk that is as space savvy as possible, you could still use a wall mounted "fixed" desk with wall cable management, maybe a corner desk or using wall storage as a means to gain more space instead. Whatever your situation whether it be at home or at work there are many options available right now to help maximise your area. Click here to see the wide range of desking (static/fixed) options we can offer.  https://www.millarwest.co.uk/products/category/office-desks/
Lets look at the various choices….
1. WALL MOUNTED
Naturally the ultimate space saving solution where desking is concerned would be to make use of any vertical space available as seen below, using fixed shelving type desks, drop down, sliding or folding. Simply…no legs makes your space larger. Check out this video on how to make your own wall mounted desk complete with wall cable management…fab. https://www.youtube.com/watch?v=lTxQ59GE91Q
The first desk/shelving combo here is very aesthetically pleasing, almost like a piece of wall art, contemporary and functional with enough room for a PC and sliding keyboard without taking up much floor space. Using the wall for shelving and entirely fixed to the wall the actual desk is small but does the job. Yes the second looks like its only good enough to use as a shelf but gives you an idea of a folding work surface using absolutely no floor space at all.
This floating wall mounted desk below uses minimal floor space again yet provides a larger desk/working area due to an extra slide out surface …so more room for all that plastic paraphernalia.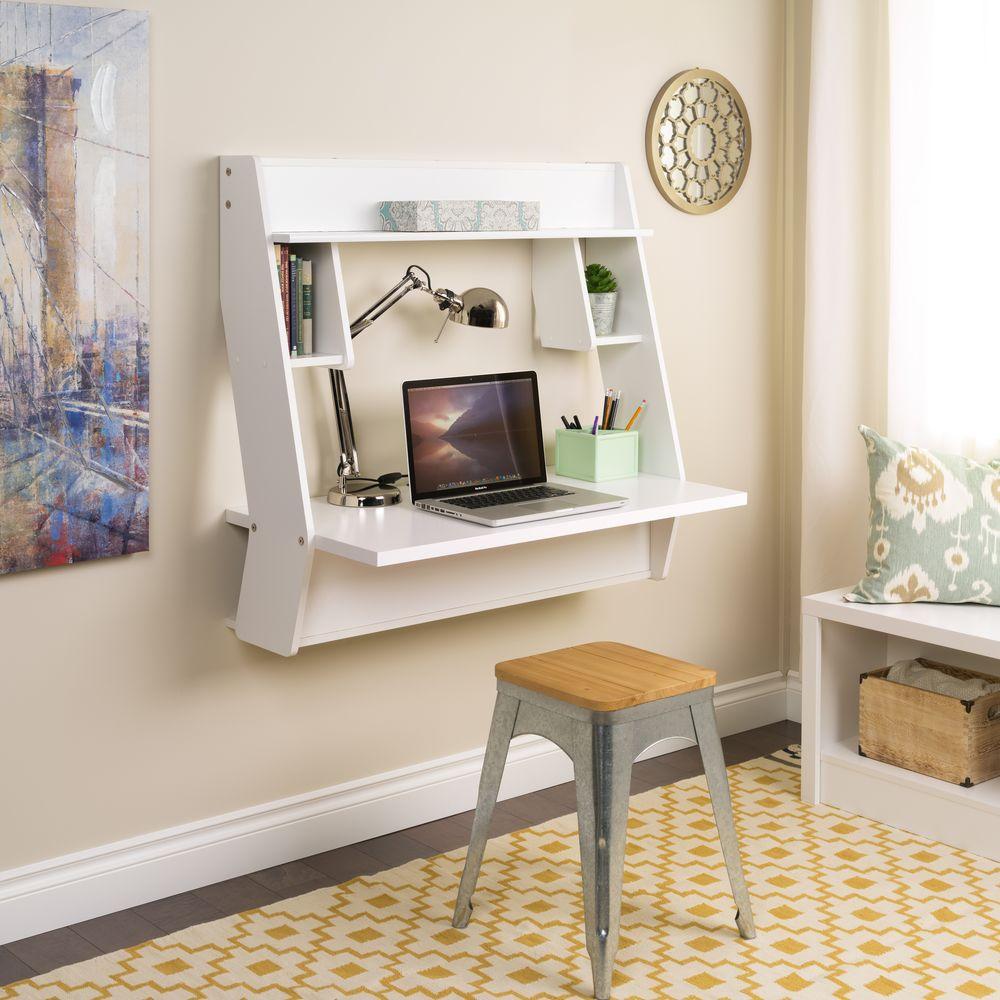 An ultra small but rather lovely little pop out work surface above. And a wall unit with a wider shelf to work on.
2. FOLDING WALL MOUNTED
Taking it that step further….. folding your desk up against the wall when you are finished working gives you the ultimate in space saving office furniture! Especially coupled with wall storage…win, win.
The fold up table above is meant for a kitchen but could easily be adapted for a working environment swapping the wine unit for a pedestal (or maybe keeping it if you have a Dursley as a boss!) Putting storage shelves/boxes up the wall to store as much as possible as seen here means that you can keep your floor space clear.
            
Images – Wayfair
Or again if you just need space for your laptop, a few business cards and a pen pot both of these above are super space savers. Cleverly designed to completely fold upward into a neat, wall hung mini cupboard…..you cant get more space saving than this surely?
3. WALL STORAGE
By far the most important and effective, storage is SO essential to gaining space, having it against a wall with shelving units right up to the ceiling is a perfect solution. Packing in a load of storage space, these shelf/desk units are perfect if you have a large wall, alcove or ideally a recess to pop against or into. The one on the right is basically a whole office in one!!
   
4. FOLD OUT/STORAGE
The desk design below is really great!! It has enough room for some storage is super neat, compact and looks fab too.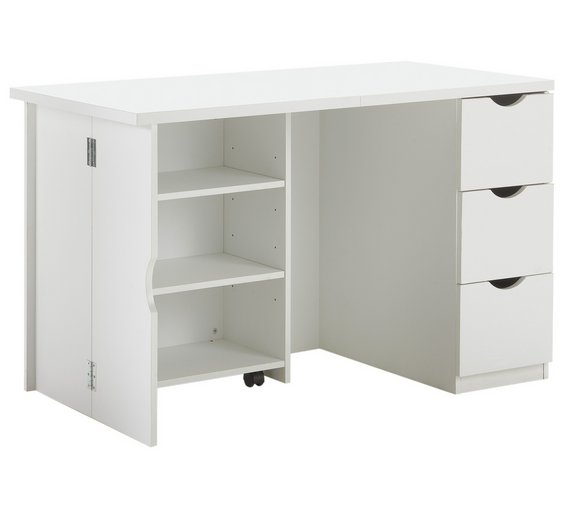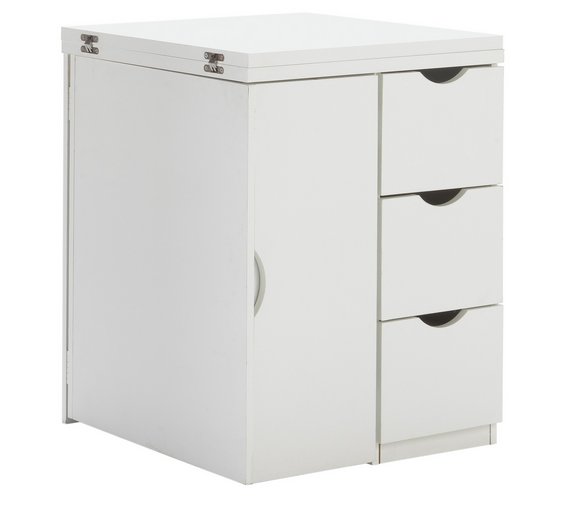 Seen below is another great idea of how to combine storage with desk space.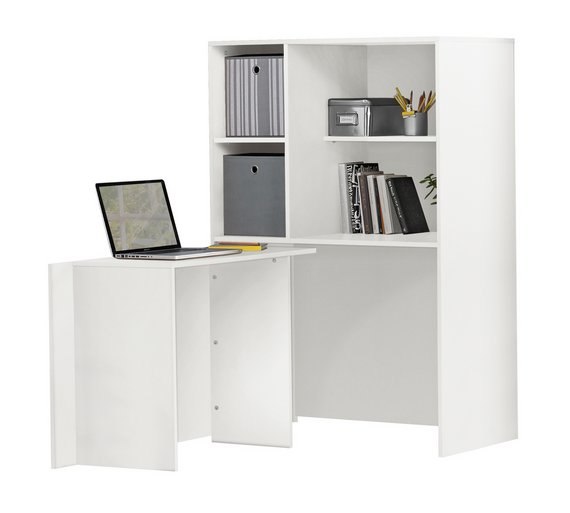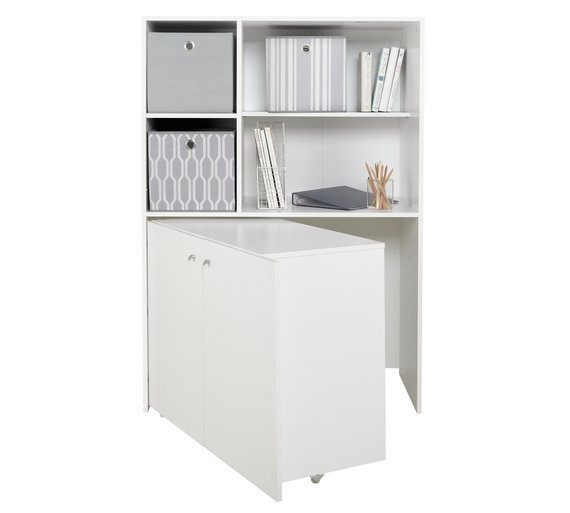 5. BUREAU/SECRETARY DESK
Rather beautiful, Secretary desks first appeared in the early 18th century and are having a revival due to more people working from home. Easy to use, just flip the hinged top down when you're ready to get down to business, then fold it away when your done working and to keep your jumble of papers etc out of sight.
    
   
6. HINGED/SWING OUT
Another way of obtaining a space big enough to work comfortably in is by using the floor space but with a clever twist as seen in the following. Here you slide a work surface underneath the other and as there is no need to take all your bits off the top surface when you slide the other surface underneath makes it especially clever.
I love the simplicity and functionality of the compact storage desk unit above, and it ticks mostly all the boxes too.
7. SHELF
If you have a really narrow space then you could always just use a desk top or even a thick shelf fixed to either wall as seen here….cosy! And wall storage features heavily here too.
8. CORNER 
Corner desks have been popular for years and provide maximum work surface, fitting neatly into the corner of a room if you want (they don't have to be placed up against two walls, maybe only one will do) making them a great addition to a small office.
9. FLIP TOP
Fliptop tables are a simple space saving solution. Usually seen in an office environment they are perfect for meetings but could also be used if needed in a small room. They fold upwards and are usually on castors so they can be moved around easily. The smart Fliptop desks below could be used in lots of work settings, perfect in a office, conference, meeting and training setting but as its party trick is to "fold up" again maybe wouldn't be ideal where a fixed workstation is needed. We can supply a wide range of fliptop tables click here for more info.  https://www.millarwest.co.uk/products/fliptop-tables/  We especially like Kite by our friends at Ocee Design https://www.millarwest.co.uk/products/kite/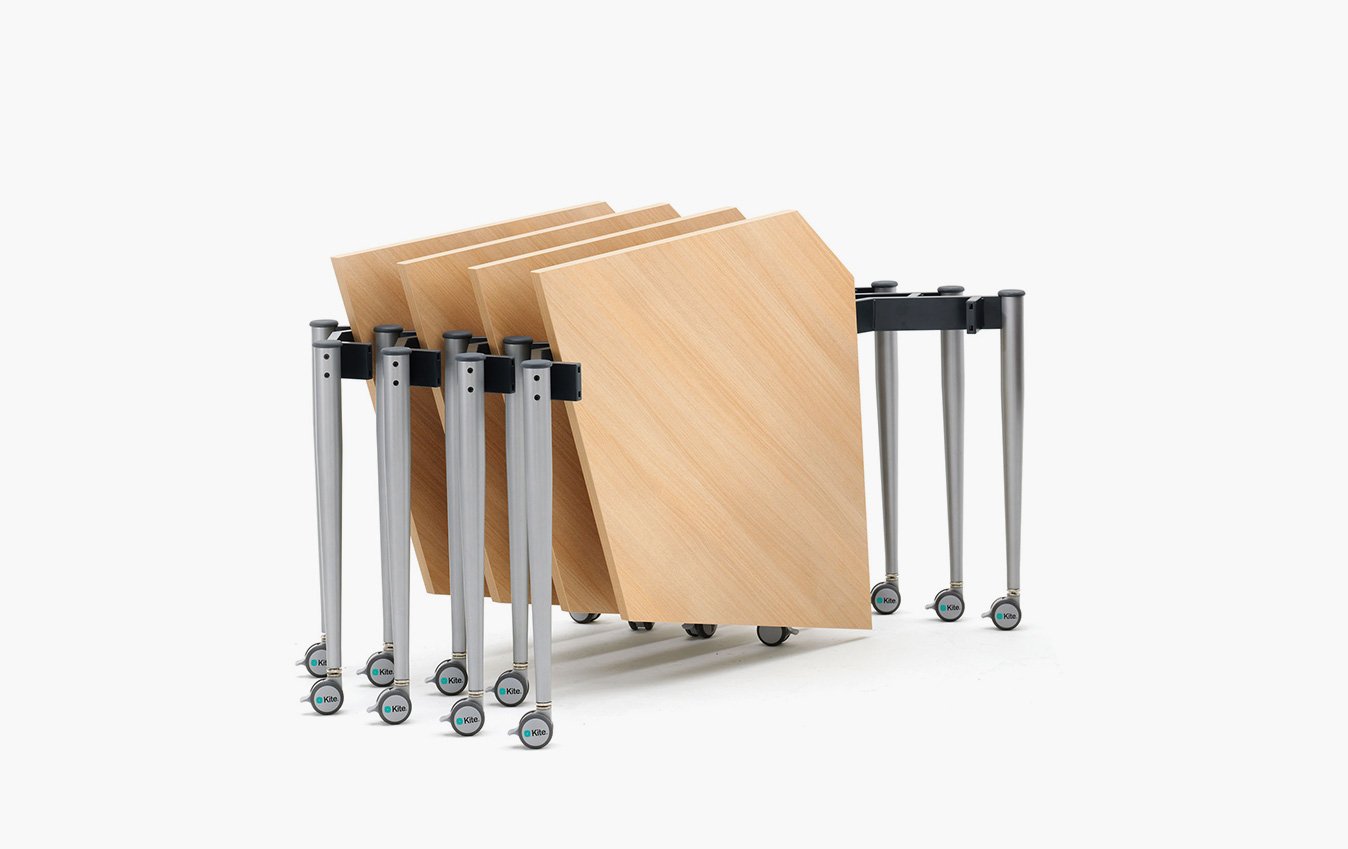 10. BED
Look at this desk/day bed combo, maybe not for an office (unless you are a workaholic or lazy) but fab for a student.
Looking at the images above a natural reaction would be " but I need more space than that!" and I agree but remember we are looking at space saving ideas …. these just give you an idea of how you can achieve more space, you can go from there and tweak things to suit you. Our sister company Harnser who manufacture some of the office furniture we can supply are experts at bespoke "specials" which can be made to your exact requirements and therefor most of the items seen above could be created to your desired dimensions. https://www.harnserltd.co.uk/
 Some other tips on maximising your space…..
DECLUTTER
Tidy space = Tidy mind….simple.
Its not difficult to see that by adopting this strategy and by getting rid of lots of clutter you create a clear space to work from and a work environment that looks fresh, clean and tidy. As well as increasing the surface area to work from which is what we are trying to achieve here! So a certain level of acceptance that you cannot and do not have space for all your nik naks has to be adopted……dump the junk!
EMBRACE COLOUR
It's a big myth that using colour in small spaces will make them feel and look smaller and unappealing. Instead it can work in a positive way to change mood even encouraging productivity and focus! Adding certain colours can change the vibe of a space from bright and fresh with light colours to intimate and cosy with darker shades. We tend to opt for neutral light colours like white or good old magnolia, but you can inject a bit of punch to all or one of your walls by using colour. So go crazy paint the walls! Use wallpaper prints too!
   
    
  
So I hope you have learnt a few handy space saving tips and that whatever space (or lack of) you have to work in be reassured that with a bit of thoughtful planning you can magic up a bit more room. And I'm just happy that I managed to mention two of my favourite films in an office furniture blog….Boom!